Teaching-BGSU-MFA in Creative Writing-Great Colleagues-Gogol
My dad was so proud of all his students, the ones who achieved great acclaim and the ones whose imaginations came alive in his entry-level fiction courses. He touched many lives through this vehicle and asked his students to ask tough questions and not settle for easy answers in their writing, in class, and, in turn, their lives. His encouraging words ring out through the chambers of Hanna Hall and all over campus. Also they reverb in our minds now. 
His colleagues mattered to him. Already I have heard from some of them. Richard Messer said to me this morning - He was a great man, period. He also described how my dad hired him and why. It's moving to hear these words. The MFA colleagues were family to me and to my dad.
When I was in graduate school I remember auditing a class of his. He had to stop calling on me as he was going through one of his favorite stories - The Overcoat by Nicolai Gogol. Dad, I still want to talk to you about this story. 
Gogol said:
In the department of … but it is better not to name the department. There is nothing more irritable than all kinds of departments, regiments, courts of justice and, in a word, every branch of public service. Each separate man nowadays thinks all society insulted in his person. They say that, quite recently, a complaint was received from a justice of the peace, in which he plainly demonstrated that all the imperial institutions were going to the dogs, and that his sacred name was being taken in vain; and in proof he appended to the complaint a huge volume of some romantic composition, in which the justice of the peace appears about once in every ten lines, sometimes in a drunken condition. Therefore, in order to avoid all unpleasantness, it will be better for us to designate the department in question as a certain department.
Gogol
Though he rebelled against institutions, he loved this program and he fought for its integrity:
One of the oldest establishes programs in the country, Creative Writing at Bowling Green State University emphasizes the fine arts element of its degree. The program offers a BFA and MFA degree, and has an outstanding record of graduate success in publication and career preparation. 
Students work in intensive workshops of limited size, with comprehensive education in craft and knowledge of the discipline. This studio experience is complemented by English and interdisciplinary courses.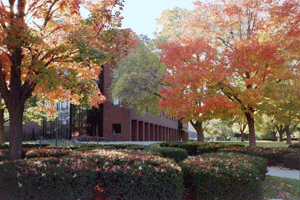 The program hosts the College of Arts and Sciences Visiting Writers Series, an important aspect of BGSU's campus culture. Nationally-known writers, such as Marge Piercy, Virgil Suárez, C.K. Williams, Aimee Bender, Simon Ortiz, Stuart Dybek, Grace Paley, Stephen Dunn, Frank Chin, and Rick Moody, visit to read their works and meet with faculty and students.